Despite its location in the middle of the heartland, there are a fair number of people in the Kansas City area who know very little about farming.
Alex McBurney, Isaac McBurney and Nathan Wilcox are not among those people. At least not anymore – though if one were to travel back in time to the beginning of the summer, they absolutely would belong in that category.
Thanks to participating in Alphapointe's S.T.E.P. ("Student Transitional Employment Program") this summer, the trio of friends can now boast that they are farming veterans – something none of them would have ever foreseen.
When each of them signed up for S.T.E.P., they knew a job awaited. But, that was all.
"I was nervous because I didn't know exactly what we'd be doing," Alex said.
Nathan offered, "I didn't really expect to be working on a farm – that's for sure!"
"I was… shocked," said Isaac.
Nevertheless, a primary goal of S.T.E.P. is for participants to gain skills and work experience. In the case of Alex, Isaac and Nathan, mission accomplished.
They worked four days each week with three of those days at Drumm Farm – a working farm located in Independence, Mo., that provides educational and growth opportunities for youth who are aging out of the foster care program.
During the course of the summer, they performed a wide variety of tasks at Drumm Farm. They weeded. They planted. They ran a point-of-sale system. They picked fruits and vegetables. They moved massive bales of hay. They even destroyed an old chicken coup.
New skills, indeed.
"We learned a lot about money management – things like how to write a check, how to balance income versus spending," Isaac said. "At the farm itself, we also learned a lot of skills – teamwork and things like that. A lot of people our age have summer jobs, so, for us, it was important to have that experience as well."
But, about that chicken coup – what was it like using sledgehammers, saws, crowbars and other tools to tear down an old apparatus that was approximately 10 feet high, 14 feet long and seven feet deep?
"To take apart the chicken coup, we had to use teamwork," Nathan said. "Each of us had to take a different element – someone had to climb on the roof, someone had to spot someone on the ladder – it was important to have teamwork in place so that we weren't bumping into each other."
Tearing down a chicken coup may not sound fun to most people, but Alex, Isaac and Nathan all agreed that it was the most fun task they encountered all summer – even though it took a week to destroy in the sweltering heat that frequently eclipsed a heat index of 100 degrees.
While learning new skills serves as a primary goal of S.T.E.P., the program often yields a number of additional benefits, such as gaining perspective.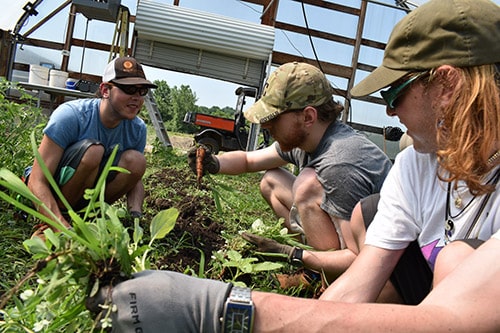 "My appreciation for farming has gone up significantly," said Nathan, a second-year student at the University of Missouri-Kansas City who aims to be a civil rights attorney. "I don't want to be a farmer and I realized that manual labor is probably not for me, but I do understand that it's very important."
And, that newfound perspective isn't a one-way street. The vast majority of team members at Drumm Farm had not actively worked alongside colleagues with vision loss.
"Our supervisor didn't have experience with managing people who are blind," said Isaac, a high school senior who plans to attend college with a goal of becoming a motivational speaker. "He learned from us how to adapt work so that we could successfully do it. Now, he knows and other people who are blind could work there in the future."
Alex, Isaac and Nathan also realize that the work they did through S.T.E.P. isn't beneficial just for them. They understand that future generations of youth with low vision need role models and that successfully demonstrating that people with vision loss can succeed in the workforce is critically important.
"I think S.T.E.P. gives people an advantage," Wilcox said. "It's important for people who are blind to realize that they can get a job and do what they want despite what the employment statistics look like or what people might say or think. Having this work experience better prepares us for the employment world when we're finished with school."
Alex, a high school senior who plans to attend college and major in theater, agreed: "S.T.E.P. shows that even if you are blind or visually impaired that you can do whatever you want."
"I've learned so much going through S.T.E.P." said Isaac. "It's a great learning opportunity if you plan to go into the workforce. I would encourage anyone to take all of the opportunities you can and be a part of a program like this."