Alphapointe will manufacture plastic prescription bottles for Express Scripts and military families. The signing of this new contract will expand services and provide resources to hire employees.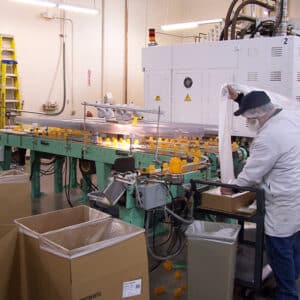 The seven-year contract calls for Alphapointe to manufacture 13 million prescription bottles a year at its Kansas City plastics manufacturing facility.
"The opportunity to expand our plastics manufacturing services and to work with an industry leader like Express Scripts is wonderful news," said Reinhard Mabry, president and CEO. "The proceeds from the contract will allow us to continue to expand our mission to serve the needs of people who are blind throughout the region."
The new contract allows Alphapointe to continue to serve the U.S. military. Alphapointe has been manufacturing plastic products for the U.S. Department of Veterans Affairs for 20 years. Blind and visually impaired workers at Alphapointe will provide plastic bottles for Express Scripts to use in home delivery pharmacies for active U.S. military members and their families.
"Express Scripts seeks to create a workforce and a group of suppliers that are as diverse as the tens of millions of American patients we serve," said Kendra Burris-Austin, Director of Supplier Diversity at Express Scripts. "Alphapointe produces a terrific product at a competitive price, and we are excited to partner with them on this new initiative."
Express Scripts, the nation's largest pharmacy benefit manager, processes more than one billion prescriptions each year. Headquartered in St. Louis, the company employs 6,000 Missourians and 300 Kansas Citians. Express Scripts annually delivers an estimated $1.6 billion in positive economic activity to the state of Missouri.
The Express Scripts contract will require Alphapointe to add new manufacturing equipment as well as hire new people. Ramp-up will begin soon and production is anticipated by late Spring.
Alphapointe is a private, non-profit 501(c)(3) organization that has continued to serve people who are blind and visually impaired since 1911. Headquartered in Kansas City, Alphapointe is the third largest single employer of visually impaired individuals in the U.S., employing more than 400 people in nine locations in four states, including our main operations in Kansas City, Missouri and our facility in Brooklyn, New York. Alphapointe is the only comprehensive rehabilitation and education agency for people with vision loss in the state of Missouri, providing outreach, services, employment and education to more than 5,000 individuals a year.
Express Scripts puts medicine within reach of tens of millions of people by aligning with plan sponsors, taking bold action and delivering patient-centered care to make better health more affordable and accessible.
Headquartered in St. Louis, Express Scripts provides integrated pharmacy benefit management services, including network-pharmacy claims processing, home delivery pharmacy care, specialty pharmacy care, specialty benefit management, benefit-design consultation, drug utilization review, formulary management, and medical and drug data analysis services. Express Scripts also distributes a full range of biopharmaceutical products and provides extensive cost-management and patient-care services. For more information, visit Lab.Express-Scripts.com or follow @ExpressScripts on Twitter.