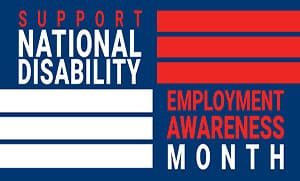 October is National Disability Employment Awareness Month (NDEAM) and Alphapointe, one of the nation's largest providers of rehabilitation services and employment for people with vision loss, is joining the campaign to raise awareness of the workforce capabilities for people who are blind.
Alphapointe employs more than 400 people across the United States, more than half of whom are blind or visually impaired. Annually, these dedicated team members produce millions of items, including plastic prescription bottles used by the Department of Veterans Affairs, life-saving tourniquets and pilot relief bags for the U.S. military, tactical pens used by military personnel in combat situations and an array of office products used by government agencies around the nation. Earlier this year, after being deemed as an essential organization by the Department of Defense, Alphapointe shifted its manufacturing to make tens of thousands of facemasks for the military. Alphapointe also employs people with vision loss who assist in providing comprehensive rehabilitation services to thousands of people every year.
"For more than 100 years, Alphapointe has created opportunities for thousands of people who are blind or have vision loss," said Alphapointe President and CEO Reinhard Mabry. "Like the rest of the world, this year has been incredibly challenging due to the pandemic, but the passion and dedication of our employees has been unwavering. I'm proud to say that we have truly made a positive difference during one of the most difficult times for our nation in recent history."
Alphapointe is a non-profit agency associated with the National Industries for the Blind. Nearly 6,000 people who are blind, including 600 veterans, are employed through similar agencies across the country. These agencies are essential in employing people with vision loss as nearly 70 percent of working age Americans who are blind are not employed, a situation significantly exacerbated by the pandemic. These agencies produce products and services through the AbilityOne Program, which helps approximately 45,000 people who are blind or have significant disabilities build competitive career paths to suit their interests, goals, and capabilities.
This year NDEAM is emphasizing the essential role that people with disabilities play in America's economic success. Alphapointe continues to serve as one of the largest employers of people with vision loss in the nation.