Alphapointe is pleased to honor its dedicated team members with our annual series of recognition awards. These individuals represent the collective spirit and determination as Alphapointe pursues its commitment toward achieving its mission of empowering people with vision loss to achieve their goals and aspirations.
Since our founding in 1911, thousands of individuals have worked at Alphapointe and the organization is ecstatic to add these caring and enthusiastic team members to the list of honorees.
Recipients were recommended for these honors by colleagues, whose nominations are below for each individual.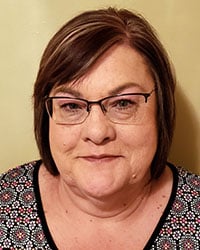 President's Award – Kansas City
Rose Windham
Team members across all business units rely on Rose's depth and breadth of all things Alphapointe. Rose is adept at troubleshooting, while identifying and reconciling a myriad of transactions, which results in a greatly enhanced cash flow for the organization. Rose's team is cohesive, well-trained and willing to work cooperatively with other departments to ensure actions needed yield proper account reconciliation, which is a testament to her leadership abilities. At the time of earning the award, Rose had worked at Alphapointe for more than nine years.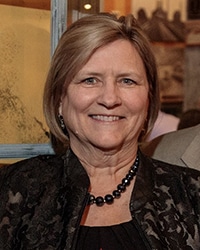 President's Award – New York
Brenda Mee
Brenda led the Business Development team to achieve incredible heights. Among a host of achievements, Brenda secured the Standard Vehicle Service Kits project, finalized the Cera Oral Rehydration project, extended the Advanced Combat Shirt contract for an additional year, delivered on five different PPE projects during the pandemic and supervised a total of 35 product/project additions to Alphapointe's portfolio. At the time of earning the award, Brenda had worked at Alphapointe for more than 18 years.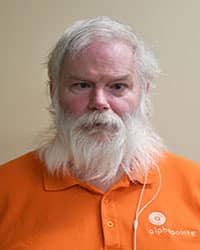 Peter J. Salmon Award
Employee of the Year
Robert Brown
Robert is a valuable asset to the Contact Center and is the go-to person to test websites and software in new projects. His IT expertise enabled the Contact Center to smoothly launch new projects by identifying issues and offering solutions prior to starting new projects. Robert was a guiding force behind launching Alphapointe's new website accessibility department, which will greatly assist clients and provide highly skilled jobs for people with vision loss.  At the time of earning the award, Robert had worked at Alphapointe for more than four years.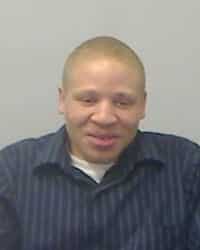 Milton J. Samuelson Award
Employee of the Year
Devin Bullock
In his role as the Assistant Supervisor of USPS's Springfield Gardens location, Devin has demonstrated exemplary leadership skills that embody this award. Devin has set positive examples throughout his career and epitomizes the very purpose of our agency. Since his first position within Alphapointe's mops department, Devin has demonstrated a willingness and ability to learn and develop his skills. His dedication and determination have created a career path that led to a management level position. At the time of earning the award, Devin had worked at Alphapointe for more than five years.
Golden Mask Recipients*
Carroll Foreman
Carroll began his career at Alphapointe just prior to the outset of the pandemic. In that short time, he's managed to make a big difference and finds the time to manage all tasks – big and small – with the same sense of importance and urgency. He was on a short learning curve and kept everyone and everything running smoothly despite New York being at the forefront of the pandemic.
April Gillilan
April was instrumental in the Call Center's success this past year as she managed the entire center in the absence of her supervisor's year-long U.S. Army deployment. Not only was she able to properly recruit, staff and train the entire Call Center, but the department had record-breaking years in most categories. April was also key to establishing Alphapointe's new 508 Compliance/Software Compliance department.
Jake McLaughlin
Jake lives, breathes and works tirelessly to exemplify the mission and values of Alphapointe. When the pandemic started, Jake adjusted his job responsibilities, including setting up the art room to serve as a pantry for our employees who needed items. He worked in the warehouse to help get orders out on time and did whatever was needed around the building to assist in any way that he could to ease the situation we were all experiencing. He created InfoPointe- a virtual educational platform allowing the organization to provide education and information to families, children, youth and adults.
Scott Thornhill
Scott works tirelessly to ensure everything he takes on is done with clear and direct purpose. His work with the HR4920 legislation was a major reason why it eventually was signed by President Donald Trump. Scott has fostered and nurtured relationships at the highest levels within the government and in both Kansas City and New York.
*Special award created in 2020 for outstanding service during the pandemic.
Kansas City Department Employees of the Year
Administration – Susan Hale & Amy McCaslin
They found a way to source raw materials despite every twist and turn the pandemic threw at them. Because of their work, Kansas City and New York operations continued to produce essential products even when vendor plants shut down, truckers refused to move products and customs slowed down international shipments. It took a significant amount of maneuvering and pulling rabbits from hats to keep Alphapointe's product lines moving.
Base Supply Centers – Michael Lourcey
Michael is an outstanding employee and excels in every aspect of his role. He has compassion, motivation and is always striving for improvement. He is respected and appreciated by his peers and customers. He routinely goes above and beyond what is expected of him. Mike readily accepts challenges and is constantly seeking ways to improve the organization through a variety of suggestions and ideas based on customer interaction and his past knowledge as a business owner. Mike positively represents Alphapointe in his abilities to interact with customers and co-workers and is passionate about making a difference.
Development/Rehabilitation – Shannon Crumpton
Shannon is consistently recognized for always being willing to jump in and take on more. Due to some staff turnover, Shannon picked up a significant number of patients. She worked tirelessly to implement a new medical billing system, eliminate errors and help make processes run better. Shannon is always very pleasant and cares about the team and the people she serves.
Contact Center/Guarded Exchange – Daniel Jones
For more than three years, Daniel has continued to be a shining example for the rest of his team. Daniel was promoted to being the lead of his department and has taken on leadership responsibilities. He continues to maintain high standards and is one of the top performers in the department. For his excellent work, he was named Guarded Exchange's Associate of the Month.
Office Products – Elisha Black
Elisha has gone above and beyond not only in her department, but in helping out in the Plastics department as well as on weekends. The quality of her work is exceptional. She is willing to perform any task that is asked of her and she's stepped up and become one of the leaders in her area. Elisha provides good ideas on how to speed up procedures and has no problem sharing tips on how we can get a job done more efficiently.
Plastics – Thomas & Trang Nguyen
Thomas and Trang Nguyen exhibit superior work ethic, nearly perfect attendance, amazing positive attitudes and a willingness to try any new job that they are presented with. Having two very small, energetic children would present a difficult situation for parents who work separate shifts, but not for Thomas and Trang. They never back down from a challenge and that is very evident in their work and family life.
Warehouse – Craig Humphreys
Craig is a self-starter who works just as hard during the late hours of his shift as he does while supervisors and management are in the building. Craig will often go above and beyond, whether that is to offer to come in early and train new staff on the warehouse or to take the initiative to tackle projects that are not even on his to-do list for the evening.
New York Department Employees of the Year
Administration – Faisal Ahmed
Despite being one of the newest members of the team, Faisal has quickly and eagerly climbed the steep learning curve of getting to know both Alphapointe's and NIB's systems and processes, along with, translating customer requirements into action. His knowledge and support of system pull-through and execution of new projects have been invaluable to Alphapointe.
Assembly – David Brown
David is a dedicated employee with a positive attitude who is willing to take on any task. He works well with his coworkers and is always ready to assist them in any way. David is very conscientious of how important it is to make sure his work is neat and correct.
Broom/Brush – Patrick Ferguson
Patrick can operate every machine in his department in addition to assisting with packing materials. Patrick understands the importance of quality as he always inspects his work to ensure it's correct. Patrick will help in any way he can whether it is in his department or other departments. He is always aware of his surroundings and will always bring to light any issues he sees to ensure everything is done correctly.
Contact Center – Omar Gathers
Omar has been a tremendous asset to the organization, particularly for its partnership with the State University of New York. He is exceptional with both students as well as the SUNY staff. Omar is not afraid to ask questions to make sure he fully understands processes, showing an incredible commitment to excellence. Furthermore, despite the pandemic, Omar never missed a shift and became a key factor in the success of the Call Center during that time.
General Factory/Maintenance – Keith Trantel
Keith has proven himself to be a person with great potential. His hard work, passion and his ability to wear many hats is a quality that makes Keith deserving of recognition as one of Alphapointe's Employees of the Year.
Material Handling – Kai Huang
Kai has always been a tremendous help. His knowledge of materials and processes within the department has made him an asset. He's always punctual, never takes "no" for an answer and he assumes the lead when necessary. Kai's colleagues enjoy his kind charisma and determination toward his job.
Mops – Su Ping Chen
She excels in all aspects of the department. She always makes herself available to assist her team members whenever they need it. She is constantly jumping in to help wherever it is needed and always does so with a smile.
Needlecraft – Pak Ling Chu
Chu is a valuable team player and is always ready to help in different departments when needed. Chu does more than one operation within the department, is reliable and always has a positive attitude.
Plastics – Josue Romero Diaz
Josue is an outstanding individual and is always ready to work. He is respectful and kindhearted. Josue always has a smile on his face and takes a tremendous amount of pride in his work. He never backs down from a challenge and welcomes them with open arms. Josue also treats all his co-workers and colleagues like family.
Sewing – Hui Fang Guo
Her productivity consistently exceeds expectations. She always has a very positive attitude and is willing to pitch in and assist with new sewing projects. Not one to sit back, Hui takes the initiative to help in any area that needs assistance.
Shipping – Kevin Richey
Kevin is always reliable and does any task that is asked of him efficiently and correctly. He constantly helps on orders that are assigned to him as well as orders that are assigned to other team members. Kevin has taught other team members to use the equipment safely and is always conscientious about his work environment and the safety of his coworkers.
USPS – Guo Xiong Liang
Liang is a model employee who represents the best of Alphapointe's values. He comes to work every day with a positive attitude and is willing and able to do any task in the department. He frequently takes the initiative to move from task to task without being asked. Liang has an excellent drive to work and it shows in his production every day.
Warehouse – Darryl Austin
Because of his hard work and his dedication Darryl is undoubtedly an inspiration to his co-workers and colleagues. Darryl has set an example of excellence for his peers and this inspires them to perform even better in their work responsibilities.