Due to the pandemic, Alphapointe was unable to host its annual awards/recognition events in 2020, so we're making up for lost ground! At our 2021 holiday party and awards event, Alphapointe was able to formally recognize and honor the 2020 Volunteers of the Year!
Collette Wright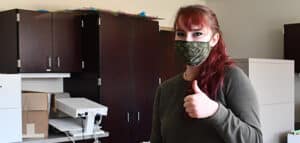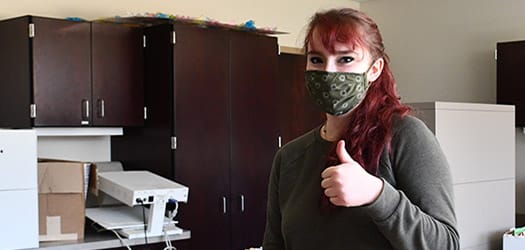 Collette is a fourth-year undergraduate student at the University of Kansas studying Biochemistry and Mathematics and is set to graduate in May 2022. She has been volunteering at Alphapointe since 2016 and has volunteered in each area of the Rehabilitation Department – most notably with Alphapointe's Adventure and Technology Camps. Additionally, Collette was instrumental in helping streamline back office systems. Her dedication and commitment to those we serve is expressed in her words from this past year when she was selected for Alphapointe's Volunteer Spotlight Series. When asked, "What do you take away when you leave Alphapointe?" Her response was "I take away the fact that I have been able to help others. Whether or not I will actually get to be present for the impact, I know that the work I have done will have a positive effect on others."
Aiden Williams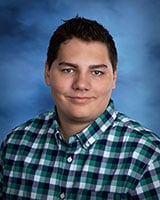 Aiden is currently a sophomore at Johnson County Community College studying Electrical Technology and Welding/Metal Fabrication Technology and has volunteered in various capacities during the past five years. He has spent much of his time volunteering with our youth as an Assistant at Adventure Camp and at various  Expanding Youth Experiences events, including rock-climbing, an excursion to Worlds of Fun and various holiday-related events. In 2020, Aiden was an integral part of the redesigning of Alphapointe's Rehabilitation Department. While our clients and patients were away, he came in and moved a massive amount of heavy furniture and each time he was done with a project came back to ask, "what next?!" We simply could not have accomplished all that we did without his help.
Thanks to both Collette and Aiden for donating their time and energy to Alphapointe! Learn more about volunteering at Alphapointe!