This is a letter written by Shirmohammad. He is a father of five children, each of whom has low vision as a result of having albinism. Along with his family, Shirmohammad fled Afghanistan in August 2021 after the Taliban captured control of the country. This is his family's story.
Today, our children are safe. They are happy. They are learning to see the world through new experiences. – Shirmohammad
My name is Shirmohammad. I am a husband and father to five amazing children, ranging in age from 2 to 14, each of whom is visually impaired as a result of Albinism.
One year ago, when our home country of Afghanistan once again fell under the control of the Taliban, we left with one backpack and left the only home we had known.
One year ago, I had no idea where we were going, where we would live, or even if we would get out of the country. The chaos of our journey, from sleeping in the airport for days and traveling on a cargo plane to passing through 12 different countries on our way to the U.S. was terrifying for my children. Because of their low vision, they could see very little of their surroundings. They could only hear the sound of the gunshots over their heads, the cries of other children, the confused and angry voices of other refugees.
One year ago, my family spent nearly six months in New Jersey with 13,000 other refugees and lived in a tent with other people. My children were scared, exhausted, anxious. Because of their vision loss, they had difficulty seeing the kind faces of the people who were helping us. They could not understand the languages being spoken to them. Those six months were the most difficult. But soon, we were going to find a place that could help them see the world better for the first time in their lives.
One year ago, I had never heard the words "Kansas City." Shortly after we settled here, one of the kind people helping us noticed that each of the children could not see well enough to function independently and gently suggested we call Alphapointe, another word I did not know.
Six months ago, we arrived at Alphapointe where each of our children were seen by a low vision doctor and now have glasses so they can see the world. This type of skilled medical care was not available in Afghanistan. For the first time, my wife and I understood their vision impairment and how to help them. For the first time, my children could clearly see trees. For the first time in their lives, they could see their mother's smile. That is a day our family will never forget, the day life changed for the better for our children.
This summer, our children blossomed at Alphapointe.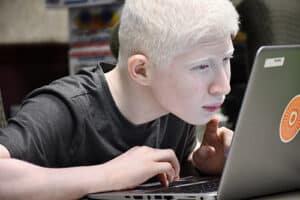 At Technology Camp, our oldest son, Haroon, learned how to use a special computer that could magnify the screen. For the first time, he could clearly see the words on the screen. For the first time, his mother and I were not worried about him keeping up at school.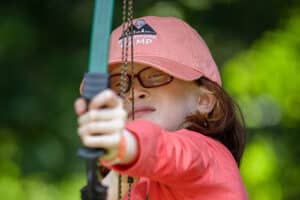 At Adventure Camp, Haroon and his sisters, Zainab, Zahra and Horia, made a lifetime of memories in just one week. For the first time, they slept away from home; it just was not safe in Afghanistan to be apart. Our children did things they had never done before – swimming, archery, horseback riding. In Afghanistan, summer camp for kids who can't see does not exist.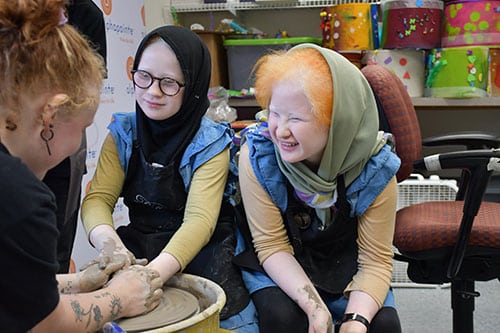 At Art Camp, we really saw our children come to life. For the first time, they were encouraged to create art in new ways, ways that made creating fun instead of frustrating because of their vision loss. For the first time, they made friends who were just like them. Our youngest child is excited to attend camp someday.
Today, our children are safe. They are happy. They are learning to see the world through new experiences. They are learning to trust new friends. Our family's journey was long and difficult, and I know that it is not yet over. I know there will be more challenges, especially for our children as their vision loss continues to progress.
Today, I also know that because of Alphapointe, our family will have the support and the resources we need to help our children adapt. I know that Alphapointe will be here for our family, and for any family like ours learning to navigate the world. We have chosen to make Kansas City our home so that our children can be close to Alphapointe and benefit from their services.
Anyone can make a difference in the lives of children just like ours by supporting the youth programs at Alphapointe. Your support opens the world of technology, adventure and art to hundreds of kids with vision loss – kids who would not otherwise have these experiences. Kids who desperately need these experiences to grow happy and healthy. Kids just like ours.
With gratitude,